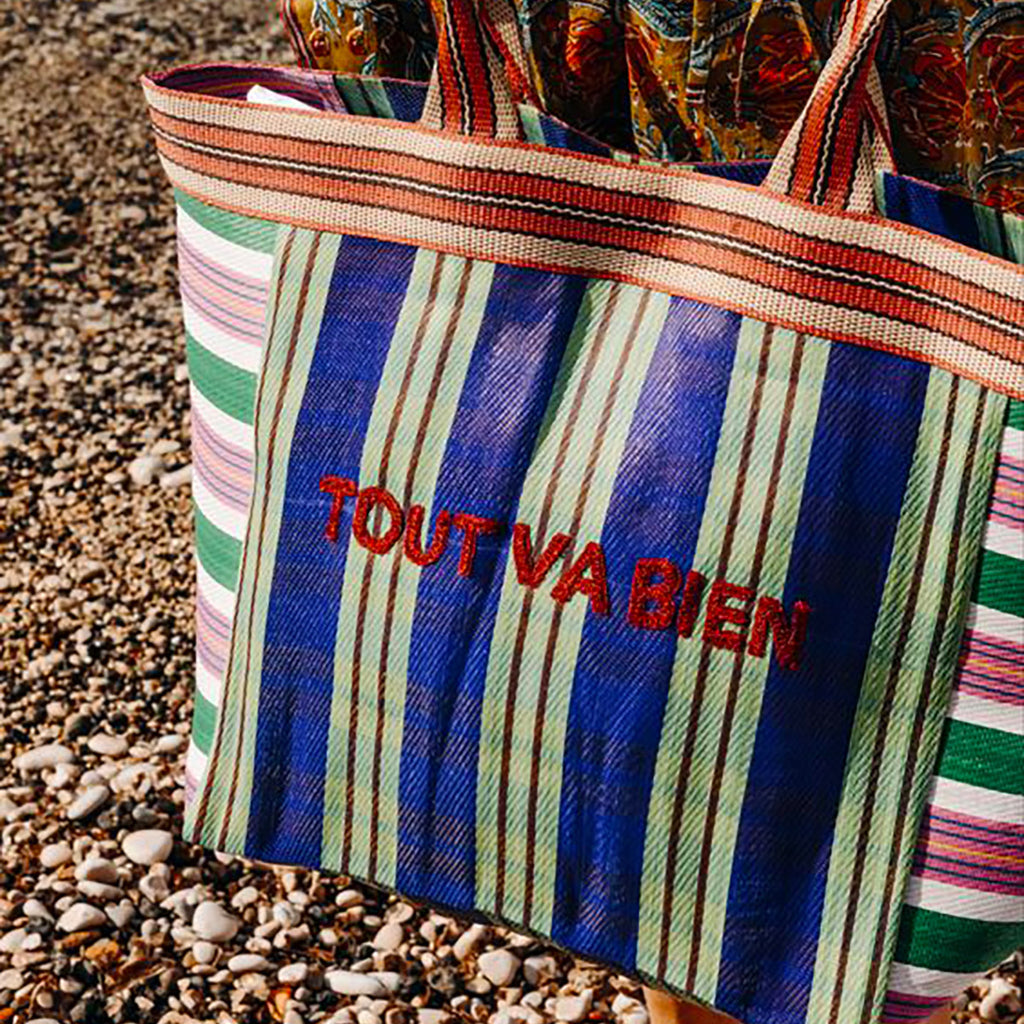 Recycled Nylon Tote 'Tout Va Bien'
This recycled nylon tote bag is handcrafted in India. It's a blend of style and sustainability. This eco-friendly shopping bag is made from 100% recycled and 100% recyclable nylon yarns, giving it a unique texture and durability. The manufacturing technique involves salvaging old rice or potato sacks, which are then processed into yarn. Each thread is dyed multiple times to obtain the fabric that will form the bag with stripes and plastic mesh. The embroidery is handmade from coloured cotton threads. This process results in a robust and environmentally friendly product.
Our products are handmade by artisans. By purchasing this recycled plastic market bag, you contribute to the respect of the environment. Each beach bag recycled is unique, bright and eco-friendly. Colour shades and stripe placement may vary from one piece to another.
Add a colourful and ethnic touch to your outfit with this Indian nylon market bag and its cheerful message TOUT VA BIEN hand embroidered by expert artisans. It will be perfect for your beach outings or city shopping trips. Each bag has contrasting stripes on all sides. Vertical stripes blue and green on the front and back of the bag and horizontal stripes pink, khaki and white on the sides of the bag.
The hand woven work and expertise of our craftsmen, contrasts perfectly with the floral patterns of our wood stamped range. You can perfectly match the floral kaftans and beach dresses from our printed range with our market bags. Shop your favourite eco-friendly bag and add a colourful and durable touch to your outfit.
Composition : 100% recycled nylon
Closure by pressure button
Colour : vertical stripes blue and green, horizontal stripes pink, khaki and white
Dimensions : 56x37x18 cm, Handles 55 cm
Spot clean only
HANDMADE

By choosing this handmade piece, you help preserve traditional know-how and support artisan communities.Thank you for supporting our artisans.
Delivery & collection information
Standard nationwide shipping is 3-5 working days. Brassica Handmade Meals collection is Fri & Sat from Beaminster only. Cut off for same week collections, please order by Wednesday 10am. Please read our delivery policy before placing your order.