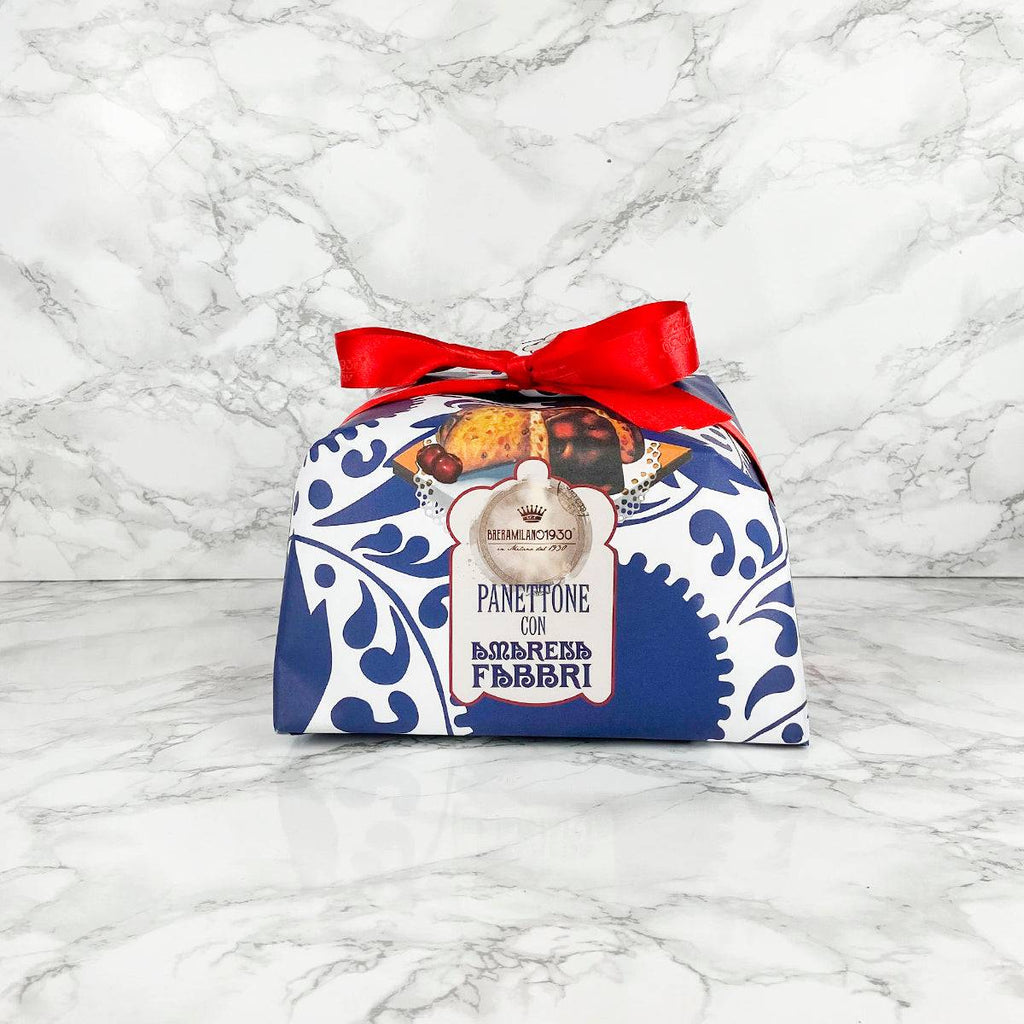 Panettone with Amarena Cherries
This panettone with Amarena cherries is a wonderful combination of two Italian greats. The golden, buttery slow-leavened dough is studded with Fabbri's rich, decadently sweet black cherries – they give a real pop of flavour. Tear off strips and enjoy with mascarpone cream and a glass of sweet marsala wine. 
The panettone is beautifully wrapped in Amarena's signature white and blue swirls and makes a fantastic gift for any food lover this Christmas.
The Amarena is a variety of sour cherry that was developed by Gennaro Fabbri in 1869. His wife, Rachele, slowly cooked the cherries and semi-candied them. Gennaro liked them so much, that he bought a white-and-blue ceramic jar to thank her. Rachele then had the idea to sell the cherry syrup in the decorative jars, and in 1905 the Fabbri company was born.
Ingredients: Wheat flour, candied cherries 20% (black cherries, sugar, glucose syrup, water, acids: citric acid, black cherry juice concentrate, natural colouring: anthocyanins, natural flavours), butter, eggs, sugar, egg yolk, milk, natural yeast (wheat flour, water), emulsifiers: mono and diglycerides of fatty acids, flavourings, salt, cocoa butter.
Allergy Advice: Allergens listed in bold. May contain nuts and soy.
Storage: Keep in a cool, dry place.
Delivery & collection information
Standard nationwide shipping is 3-5 working days. Brassica Handmade Meals collection is Fri & Sat from Beaminster only. Cut off for same week collections, please order by Wednesday 10am. Please read our delivery policy before placing your order.